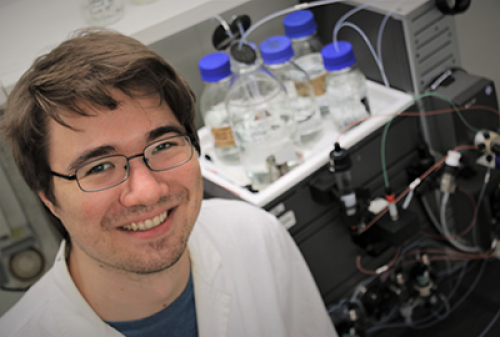 Say hi to Hiroyuki Seebach! Hiro is working on enzymes that produce molecules, which help plants scavenge metals from the soil. He started his project back in October 2018 in the group of Prof. Ute Krämer after completing his master's degree at the University of Bayreuth.
What are you doing in the lab, Hiro?

The enzyme nicotianamine synthase (NAS) is essential for plant metal homeostasis. The product nicotianamine is a metal chelator for several transition metals like iron, copper or zinc and is involved in the uptake and transport of these metals. Interestingly, in recent years, NAS genes were identified in nearly all taxonomic kingdoms, for example in the bacterium Staphylococcus aureus or the archaeon Methanothermobacter thermoautotrophicus. My research is focusing on the differences between these different NAS species. We established an activity assay for NAS enzymes, which made it possible to directly compare the activities of different species with one single assay. This approach also allowed us to analyse, for the first time, an extended C-terminal region that is unique to plant NAS and may play a role in regulating enzyme activity.
Another research topic is the elucidation of the reaction mechanism catalysed by plant NAS. Nicotianamine contains an azetidine-ring structure, which is also found in antibiotics but rarely in other biomolecules. Currently there is not much known about the mechanism. By generating NAS mutants and identifying reaction intermediates by mass spectrometry, we hope to gain insight into the reaction mechanism.

How do you benefit from being a member of MiCon?

During my PhD in the MiCon group, I came into contact with many people, especially other PhD students. They helped me to discuss my experiments and problems in a relaxed atmosphere, since we all have the same goal in mind. This was especially helpful for me to connect with other groups, e.g. Prof. Marc Nowaczyk or Prof. Frank Schulz , to use machines that are not available in our lab and new techniques. I would highly recommend other students to join MiCon to benefit from these opportunities as well. And to everyone who just started his/her/their PhD: We´re all in the same boat, which will eventually reach its destination!